Monumental buildings carry stories of conservation and the heritage of society. They reflect the extent of influence of the past on the present urban landscape. In Accra, many monumental buildings are linked to colonial rule and independence. Many of these monumental buildings are centered around Osu and Jamestown.
Here are 5 popular monumental buildings in Accra:
James Town Lighthouse
The Jamestown Lighthouse is located in Jamestown; the oldest district in Accra located along the Gulf of Guinea. The area houses significant historical edifices of colonial rule, indigenous Ghanaian music and arts. The area was a highbrow area in Accra during the colonial era with many government offices and departments during the colonial era. It was the Airport city and Cantonments of the colonial era. Among the developments in Jamestown, the Lighthouse stands tall as a landmark in the area. The structure was built in the 1930s to serve as a fishing port, attracting groups and individuals in the country.
2. Independence Square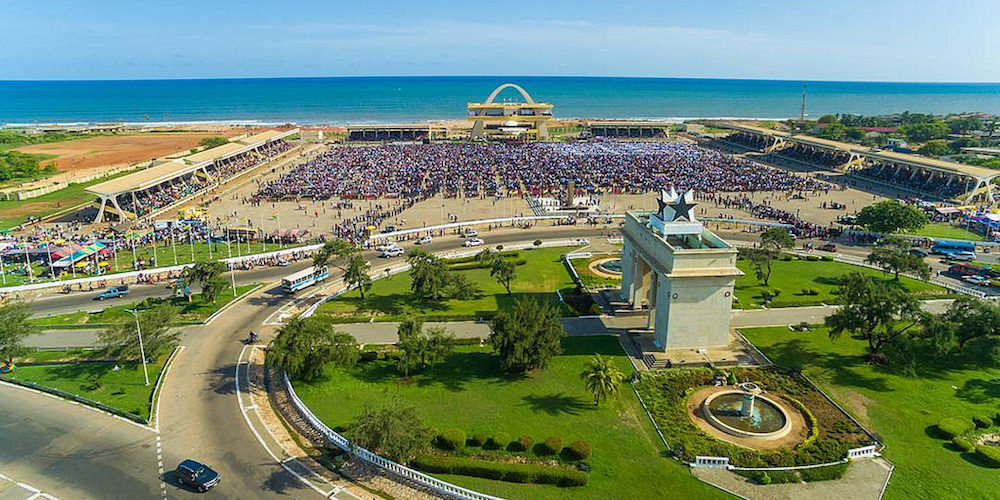 The independence square is about 12-minutes' drive from the Jamestown Lighthouse. With a seating-capacity of 30,000, the independence square hosts a lot of national events. The construction of the independence square was launched by the first president of Ghana to celebrate the independence of Ghana from colonial rule in the year 1957. Within the independence square are other significant monuments such as the independence arch, the liberation day monument and the black star gate.
3. Ussher Fort
This fort was built in the 17th century by the Dutch and is located in Jamestown. This fort has served many purposes from the period of colonial rule till date. It has served as a slave dungeon, a police post, a prison, a military detention centre, a court marshall unit and a refugee camp. Its most recent use was a museum of slavery. The fort is presently closed due to its poor state of repair.
4. Osu Castle
Located in Osu, the castle was originally built by the Danes in the 17th century to serve as a centre for slavery. Over the years, the fort has undergone several reconstructions and has changed uses over time. Till recently the castle was the seat of government. Presently, the castle is a Presidential museum with personal possessions of past leaders of the country.
5. The Holy Trinity Anglican church
The 127-year old building was built to serve as a place of worship to colonial expatriates. This building is located along the 28th February road and is among the oldest religious monuments in the country. It is a classic piece of old British architecture.